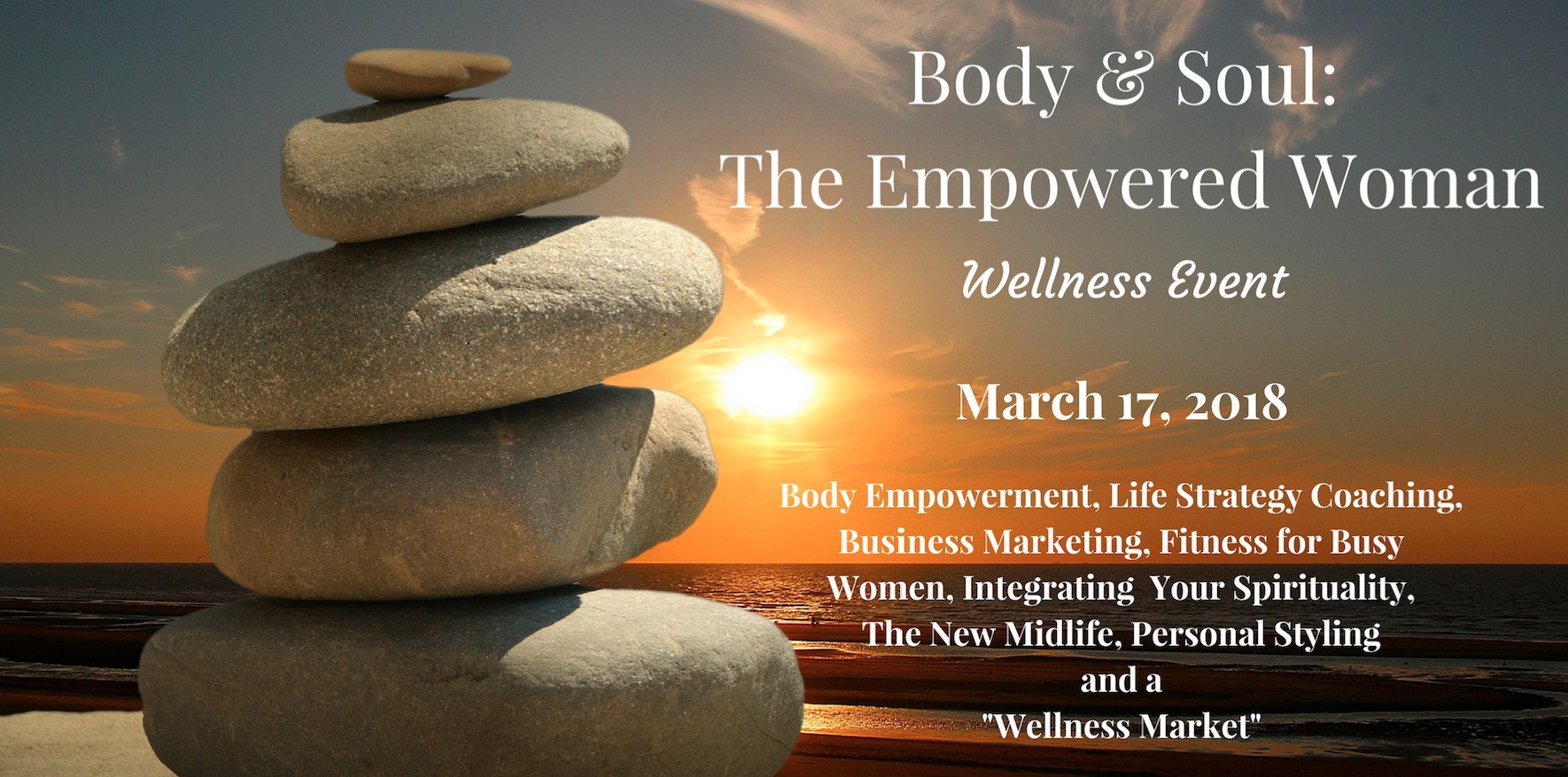 Body & Soul: The Empowered Woman
Sat, Mar 17 from 11am - 3pm (Pacific)
(Doors open at 10:30AM for VIP ticket holders for shopping and refreshments)
Hurry and get your tickets for this awesome wellness event supporting and promoting women's body-mind-spirit wellness. BODY & SOUL: THE EMPOWERED WOMAN will allow you to: hear great speakers, dance to cool music, enjoy delicious food and drink, visit the wellness market filled with diverse exhibitors and enjoy the vibe! VIP ticket on sale now! http://bodysoulsd.eventbrite.com/

Join this half-day wellness retreat and empower your body, mind and spirit!

Get solutions, tools and strategies that will transform you physically, psychologically, emotionally and spiritually! With food, storytelling, facts and information, empowering music (you can dance!) and laughter, experts Amy Jue Lanci (body empowerment coach) and Barrett Clemmensen Powell (life strategist) and other wellness experts will help you create lasting change in your life.

With humor and straight-to-the heart talk, Amy and Barrett will cover topics including, but not limited to:

WOMEN'S SEXUALITY
PERSONAL STYLE
HEALTHY FOOD & NUTRITION FOR BUSY WOMEN

THE NEW MIDLIFE (30s-50s)

KEEP IT FLOWING: SEXUALITY AT EARLY MIDLIFE AND MIDLIFE

SMART MARKETING FOR THE WOMANPRENEUR

EXPANDING YOUR WORLD THROUGH YOUR SPIRITUALITY

Presentations by
Kimberly Yeater (fitness coach and wellness expert)
NIkkie Dupre Achartz (social media marketing expert)
Ann Neimark (personal fashion stylist)
Dr. Kristin Zeising, clinical psychology and sex therapist
Barrett Clemmensen Powell (lifestyle entrepreneur, authior and speaker)
Amy Jue Lanci (Body emowerment coach)
FREE MASSAGES!!
FREE HEALTH CHECKUPS!!


VIP AND GENERAL AMDISSION
VIPs will get entrance at 10:30AM for early networking and a special program plus light appetizers
General admission is at 12:15 PM

WELLNESS MARKET
Look for empowering exhibitors with products and services that enhance your life, such as Grace & Heart (jewelry), Amore Meals (fresh home meal service), Pruvit, JuicePlus+, Beyond WHoleness and more!

TICKETS: http://bodysoulsd.eventbrite.com/

~~~~

YOUR HOSTS:

AMY JUE LANCI is a body empowerment coach and speaker based in San Diego, CA, who works with women on achieving healthy body image, accepting the body they have now and not the body they want, and gaining better understanding of the mind-body connection.

BARRETT CLEMMENSEN POWELL is a powerful transformation life strategist, author, speaker and spiritual director based in San Diego, CA and Copenhagen Denmark. For 20 years she has been working with high-powered, active spiritually hungry women worldwide, empowering them to financial abundance and their best life (joy, peace and love).
SEATS ARE LIMITED