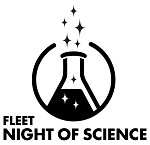 Fleet Night of Science—Back to the Fleet-ure
Wed, Oct 21, 2015 at 6:30pm
October 21: Night of Science—Back to the Fleet-ure!
$19.95 nonmembers
$15 students with ID
$15 Fleet members, Fleet staff and volunteers, and Balboa Park employees.
Join us on Wednesday, October 21, for our next installment of Fleet Night of Science: Back to the Fleet-ure! Imagine the future as you explore our newest exhibition, Imaginate. Need a flux capacitor for your car? Build one! Want to be celebrated as the fantastic time traveler that you are? Come dressed up in clothing from a time you'd like to travel to, or dress as your favorite time-traveling character and win fabulous prizes and bragging rights. Love sci-fi and superhero movies? We'll explain the science behind some of your favorite films. And if that's not enough, then take a moment to discuss hovercrafts and the future of innovation and technology with our friends from the local science community. All the while, a DJ will set the mood, a local restaurant will offer sustenance for purchase and BarWorks will sell liquid refreshments. Join the fun and travel back to the future at the Reuben H. Fleet Science Center!
We are proud to partner with San Diego's IDW Publishing to celebrate the launch of their newest comic book series: Back to the Future, which will be released on October 21st. The men behind the comic, writer John Barber and editor Tom Waltz, will join us at the event to talk about their latest work! Be one of the first to get a Back to the Future comic book and have it signed by John!
Event Schedule:
7pm: Hollywood Movie Science presentation
8pm: Art of the Back to the Future Comics presentation with John Barber and Tom Waltz
8.30pm: Back to the Future comic book signing with John Barber
9pm: Costume contest winner announcement
And of course we will have many science demonstrations and hands on activities to enjoy all throughout the evening:
Bend light, punch water, watch water flow upwards, see objects hover (ya know, like Hoverboards!), watch a magnet defy gravity and be electrified!
Space is limited!